On April 7, 2017, IBEX Airlines Co., Ltd. (Headquarters: Koto-ku, Tokyo; President & Representative Director: Takao Asai; hereafter IBEX) and JAMCO Corporation (Headquarters: Tachikawa, Tokyo; President & CEO: Harutoshi Okita; hereafter JAMCO) concluded a Partnership Agreement (hereafter Agreement), with the goal of strengthening cooperation between the two companies, and further invigorating the local economy surrounding Sendai International Airport, which serves as IBEX's main hub of operations.
1. Purpose of the Agreement
To create a new maintenance division business model as a regional airline business based at Sendai International Airport through building a win-win partnership between the two companies based on the following perspectives.
(1) Restructuring of IBEX's proprietary aircraft quality management system.
(2) Strengthening of efforts to further optimize IBEX's aircraft maintenance costs.
2. Agreement Overview
(1) Coordination and cooperation regarding heavy maintenance work and alteration support for aircraft operated by IBEX.
(2) Coordination and cooperation regarding line maintenance work and repair support for aircraft operated by IBEX.
(3) Exchange between IBEX and JAMCO personnel and the training of certified personnel.
3. Additional Information
(1) About IBEX
IBEX is a regional airline with operations based out of Sendai International Airport. Its fleet consists of eight BOMBARDIER CRJ700 aircraft and one BOMBARDIER CRJ200, and it operates 54 flights daily over 14 routes inside Japan. With its 2017 summer flight schedule, IBEX offers a highly convenient flight network by focusing on routes in and out of Sendai, which includes an increase in the number of flights on its Sendai-Fukuoka route. It has also finished the modernization and consolidation of its fleet from CRJ200 to CRJ700 aircraft, and continues to drive improvements in flight operations quality and production system efficiency.
(2) About JAMCO
Since its founding in 1955 as an aircraft maintenance company, JAMCO kept pace with the growth of the Japanese aviation industry with aircraft maintenance as its core business, and expanded its activities. JAMCO later grew its manufacturing businesses, which include aircraft interiors, and it now supplies products to such major aircraft manufacturers as Boeing and Airbus, as well as to more than 100 airlines in Japan and overseas. With its formal entry into the aircraft seat business in 2014, JAMCO has also started offering premium seats for first and business class.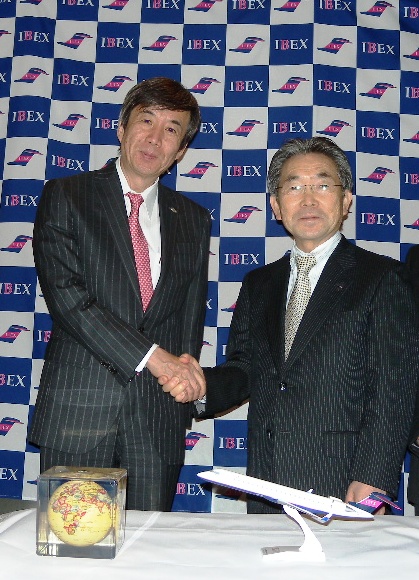 Mr. Takao Asai, President & Representative Director, IBEX (right)
Katsuhiro Ogami, Representative Director and Executive Vice President, JAMCO (left)