A global market share of aircraft interior products
Tireless ambition to enter new business fields
On-time delivery of high-quality products guaranteed
JAMCO's business is based on technology.
JAMCO has secured leading market shares in the aircraft aviation industry by applying the advanced technical capabilities it has built up over many years.

Going beyond conventional ideas of aircraft interiors, JAMCO is offering innovative concepts and functions to create all-new types of passenger cabins.

JAMCO, maker of many award-winning, high-quality products over the years, reaches a new level of excellence for quality and dependable, on-time delivery.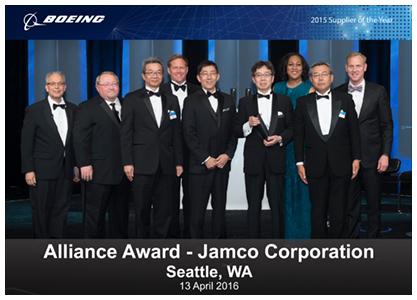 JAMCO's accomplishments in guaranteeing consistent quality and ensuring a stable supply were highly evaluated in 2015. In recognition of the safety and quality of its products, JAMCO was one of 12 companies to receive the 2015 Boeing Supplier of the Year award (Leaders' Choice Alliance Award category) from The Boeing Company, and was also awarded a 2015 Airbus Supplier Support Rating from Airbus S.A.S.