JAMCO Corporation announced that it has started construction of a new factory in Natori City, Miyagi Prefecture.
1.Purpose of the construction of the new factory
We, the Aircraft Components Group of JAMCO Corporation, have been engaged in the manufacture of aircraft components such as CFRP components, engine parts and heat exchangers in a facility adjacent to our headquarters located in Mitaka,Tokyo. However, road construction which divides the facility is ongoing under a city plan, and is scheduled to be completed by the end of fiscal year 2012. To avoid the possible risk of this construction work disrupting the activities of our current facility, and in order to meet growing demands for expansion, we have decided to construct a new factory in Natori City, Miyagi Prefecture and to relocate the production lines for CFRP components and engine parts for aircraft there. As a result of this relocation, the production rate of the new facility, as well as existing facilities, is expected to increase and will lead to an expansion in our ability to satisfy customer demands. With this background, JAMCO will continue to develop a framework to satisfy the various needs of our customers.
2.Background of the construction of the new factory
JAMCO acquired the land for the new facility in October 2010, and had launched the project with the intention to begin construction in April 2012. However, after the Great East Japan Earthquake we were forced to suspend the project due to devastating damage which the Sendai Maintenance Center of our Aircraft Maintenance Company suffered, as well as sudden changes in the housing situation and the construction industry. Finally, the project has been launched after minor alterations were made to the original plan.
3.Overview of the new facility
| | |
| --- | --- |
| Address | Medeshima Seibu Industrial Park,7-101-36 Medeshimadai, Natori City, Miyagi Prefecture |
| | |
| --- | --- |
| Site area (total land area) | 41,621㎡ (58,800㎡) |
| | |
| --- | --- |
| Building Construction | Flat Steel Skeleton (brace structured) |
| | |
| --- | --- |
| Capital Investment | Approx.1,500 mil yen (Total amount for facilities and equipments) |
| | |
| --- | --- |
| Beginning of operation | April 2013 (Construction to begin April 2012) |
| | |
| --- | --- |
| Products | Aircraft engine parts, CFRP components for aircraft, etc. |
| | |
| --- | --- |
| Major Equipments | 2 Autoclaves, 7 molding lines for CFRP components, 1vacuum furnace, 30 machining facilities |
| | |
| --- | --- |
| Number of employees | Approx. 80(including 20~30 new employees to be hired at the start of operations) |
| | |
| --- | --- |
| Amount of sales | Approx. 3,000mil yen (first year sales) |
| | |
| --- | --- |
| Major customers | IHI Inc., AIRBUS, Premium AEROTEC GmbH, etc. |
| | |
| --- | --- |
| Design supervision and construction | TAISEI CORPORATION |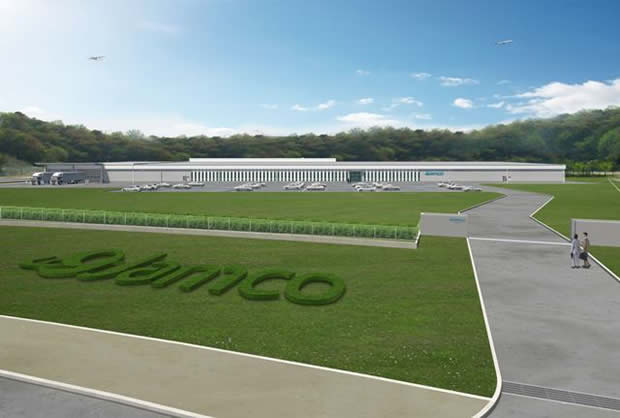 Rendering of the new factory of Aircraft Components Company in Natori City, Miyagi Prefecture
(Photo: Courtesy of TAISEI CORPORATION)