JAMCO Corporation received an Airbus Supplier Support Rating Award for 2016 from Airbus S.A.S. at the Aircraft Interiors Expo 2017, April 4-6, 2017 in Hamburg, Germany.
A supplier of galleys and galley inserts for Airbus aircraft, JAMCO's receipt of this award demonstrates Airbus' recognition of JAMCO's continuous ability to provide reliable products, related technical support and customer assistance, and for making notable contributions to improvements in customer satisfaction in 2016. Out of the many suppliers working with Airbus, JAMCO ranked 2nd overall and 1st among monument suppliers, for the second consecutive year that it has received the award.
Geneviève Laurens-Chassagne, Airbus' Head of Supplier Support & Retrofit Management presented the award to Harutoshi Okita, JAMCO's President and CEO, who attended the award ceremony.
As a supplier of aircraft cabin equipment required to meet the highest levels of safety and quality, JAMCO is committed to continuous improvement in customer satisfaction regarding product quality and performance and superior customer support.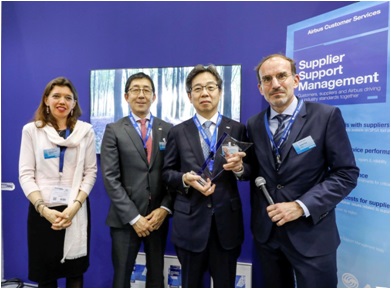 Stéphanie Coutris-Fourniols, Head of Supplier Support Management Cabin, Airbus (Left)
Laurent Flury, Supplier Support Management Cabin, Airbus (Right)
Harutoshi Okita, President and CEO, JAMCO Corporation (Right Center)
Masamichi Kato, Senior Managing Executive Officer, JAMCO Corporation (Left Center)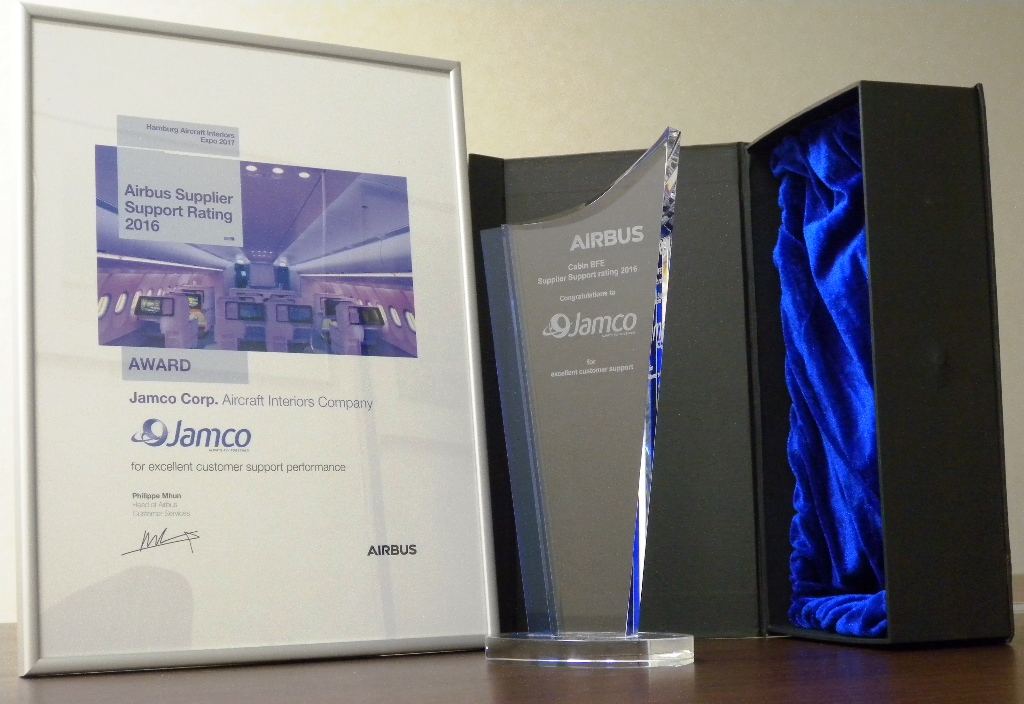 The JAMCO Group booth at the Aircraft Interiors Expo 2017 welcomed a large number of visitors from aircraft manufacturers and airline companies.