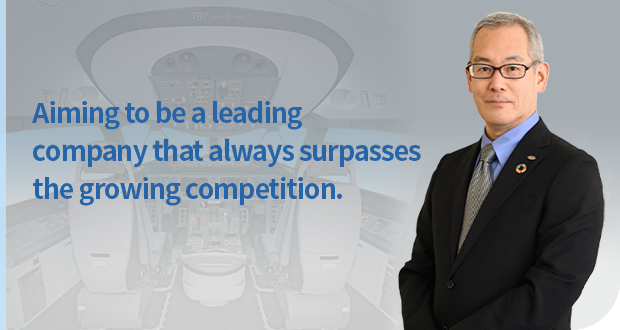 We are implementing comprehensive measures to enhance compliance, raise quality awareness, and improve in every aspect while aiming to steadily grow earnings in an expanding market.
Fiscal year 2019 results
In the air transportation industry, owing to the impact of the global spread of COVID-19, travel bans were issued in each country, causing a sharp decrease in passenger demand which had been robust until the outbreak. This resulted in a significant deterioration of the business environment. As for aircraft manufacturers too, both Boeing and Airbus plan to substantially reduce production due to the sharp decline in demand for air transportation.
Under such circumstances, in the aircraft interiors business and the aircraft seat business, we worked to identify the cause and verify safety in response to the inappropriate quality issues announced on March 26, 2019, and implemented corrective/preventive measures, while proceeding with efforts to raise awareness of both compliance and quality to a higher level.
In the aircraft components business, we took initiatives to improve productivity, while proceeding with in-house production of interiors and seat parts by applying the metal processing technologies we have accumulated over the years.
In the aircraft maintenance business, we continued with initiatives to ensure flight safety and enhance quality, while also endeavoring to expand aircraft maintenance for airlines.
As a result, on a consolidated basis, during FY 2019, the Company posted net sales of ¥91,535 million (up ¥7,467 million compared to the previous fiscal year), operating income of ¥1,807 million (down ¥2,513 million compared to the previous fiscal year), ordinary income of ¥1,178 million (down ¥2,112 million compared to the previous fiscal year) and net income attributable to shareholders of parent company of ¥605 million (down ¥1,304 million compared to the previous fiscal year).
The Company distributed a year-end dividend of ¥20 per share, representing a consolidated payout ratio of 88.6%.
The Company plans to step up its efforts to reform its operating processes, invest in new business fields, and continue to cultivate and develop its human resources with the aim of steadily expanding its business in the growing market.