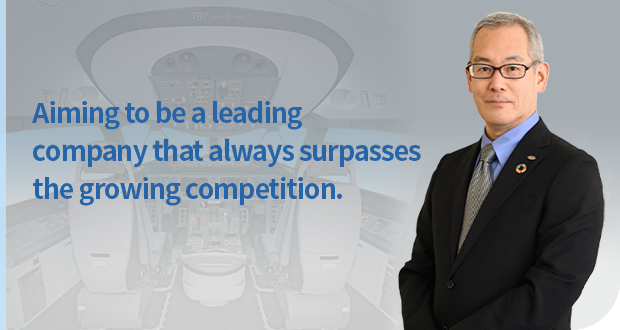 We are implementing comprehensive measures to enhance compliance, raise quality awareness, and improve in every aspect while aiming to steadily grow earnings in an expanding market.
Apology for quality-related incident
On March 26, 2019, JAMCO and Miyazaki JAMCO Corporation disclosed that improper inspections had occurred during contracted manufacturing work related to the seat and interior products business. Some auxiliary parts sold at approved organizations in Tachikawa received acceptance inspections at an unapproved organization. Additionally, part of the inspections were conducted by an uncertified trainee of Miyazaki JAMCO without the inspection instructor being present. JAMCO sincerely regrets the incident and deeply apologizes for the concern it has caused our stakeholders.
We are fully committed to our Basic Principles of Management of ensuring complete aircraft safety and constantly raising quality, and this incident was a wakeup call to thoroughly reassess the quality of our procedures. We view the incident with the utmost gravity and are mobilizing a comprehensive effort to rectify the situation by identifying the fundamental cause, implementing measures to prevent recurrence, and raising awareness of compliance and quality issues.
Fiscal year 2018 results
The JAMCO Group aggressively advanced its business activities to take full advantage of the briskly expanding demand for aviation and aircraft equipment in the fiscal year ended March 2019. In the Aircraft Interiors Business, we continued developing new lavatories designed for the Boeing 777X and also began developing galleys for the aircraft upon receipt of orders from major airlines. In the Aircraft Seat Business, after receiving the order to supply the standard seats for KLM Royal Dutch Airlines aircraft, we continued developing the operation and aim for it to begin generating profits in fiscal year 2020.
The Aircraft Components Manufacturing Business continued to increase the production volume of its aircraft engine parts. We also began applying our metal processing technology to establish internal manufacturing systems for interior components. In the Aircraft Maintenance Business, we continued advancing initiatives to enhance the quality and range of our services while also taking steps to improve earnings. In addition, we entered into a capital participation in MRO Japan of the ANA Group with the aim of broadening the range of our business operations.
As a result of these activities, strong sales in the Aircraft Interiors Business propelled consolidated sales above our initial guidance to ¥84,068 million. Ordinary income declined slightly due to higher R&D expenses but net income attributable to shareholders of parent company increased to ¥1,910 million thanks to reduced tax expenses.
The Company distributed a year-end dividend of ¥20 per share, representing a consolidated payout ratio of 28.1%.
The Company plans to step up its efforts to reform its operating processes, invest in new business fields, and continue to cultivate and develop its human resources with the aim of steadily expanding its business in the growing market.