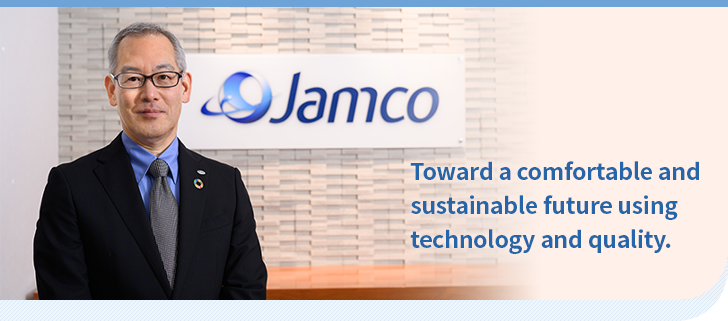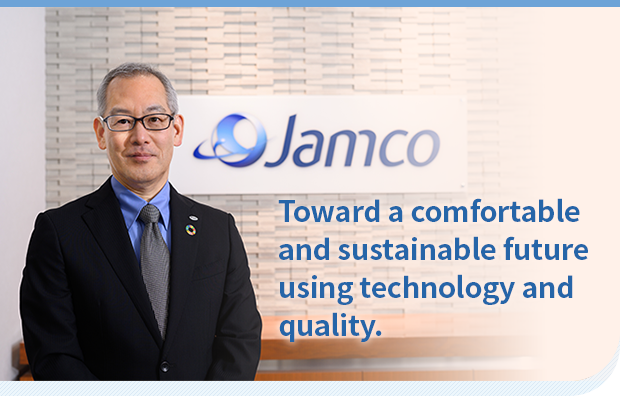 As president and chief executive officer of JAMCO, I would like to welcome you to our company website.
JAMCO was originally founded in 1955 as a company specializing in the maintenance of small-sized aircraft. Since that time, it has gained a solid footing in the aircraft industry and expanded operations into three main businesses: aircraft maintenance, aircraft components manufacturing, and aircraft interior products manufacturing. More recently, we made a full-scale entry into the aircraft seat manufacturing industry in 2014, further raising JAMCO's presence as a producer of all types of aircraft passenger cabin equipment and a provider of comprehensive solutions that integrate various types of interior products. Fascinated by aircraft, our ambitious and proud engineers have gained a wealth of knowledge and overcome countless challenges. They now represent a cornerstone of the company.
For over six decades since the company was founded, our aircraft maintenance business has handled repairs and upgrades of aircraft and parts for a wide range of customers, from government agencies to airlines. With the foremost mission of ensuring aircraft safety, this business is committed to contributing to the development of Japan's aircraft industry going forward.
Our aircraft components manufacturing business has gained expertise in special process techniques for various kinds of metal processing used for aircraft. The business manufactures a broad range of product lineups spanning from aircraft engine parts to military aircraft equipment, such as heat exchangers. It also deploys proprietary manufacturing methods to produce carbon-fiber components and parts for aircraft. These products have been highly evaluated by Airbus S.A.S. and adopted for all of its aircraft models. We are promoting the adoption of new types of equipment and applications for these carbon fiber products.
Our aircraft interior products manufacturing business develops, designs, produces, and tests aircraft cabin equipment in accordance with the requests of each customer, applying technologies for realizing the light weight required by aircraft. This business has acquired relevant certification and works to ensure that products are delivered on schedule. As a result, JAMCO has gained the trust of the world's two major aircraft manufacturers—The Boeing Company and Airbus S.A.S.—as well as airlines worldwide that strive to offer high-quality services.
Finally, JAMCO's aircraft seat manufacturing business specializes in premium seats installed in the first-class and business-class sections of passenger cabins. It strives to realize greater comfort, functionality, and more attractive designs while meeting strict standards for safety. Appreciating that passengers spend most of their time seated during flights, this business creates comfortable spaces by drawing on the technical capabilities accumulated in the aircraft interior products manufacturing business.
Looking ahead, the JAMCO Group intends to continue contributing to the development of the aircraft industry, while adhering to the highest standards of ethical conduct. Based on our management philosophy of focusing on technology using samurai values.
June 28, 2017