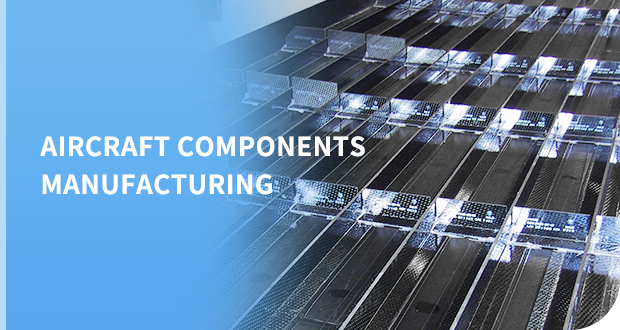 JAMCO Group is leveraging its expertise in special process techniques to manufacture jet engine parts, Carbon-Fiber-Reinforced plastic (CFRP) carbon-fiber structural members, and other aircraft components at a high level of quality and safety.
Competitive Advantages of JAMCO's Aircraft Components Manufacturing Business
Leading Proprietary Technologies, Including a Patented Continuous Molding Method for Carbon-Fiber-Reinforced Plastic (CFRP)
Operations Certified by Nadcap, a Global Standards Accreditation Program
JIS Q 9100 Certification, a Quality Management System Required by Manufacturers in Japan's Aerospace Industry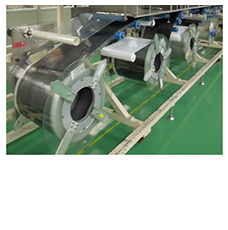 JAMCO's special process techniques can be applied continuously by means of automation, allowing it to mold members for a theoretically unlimited amount of its length. Compared to conventional methods, JAMCO's techniques enable parts and components to be manufactured over shorter periods and at lower costs. Moreover, it's excellent internal molding quality, delivers extremely high accuracy, such as straightness.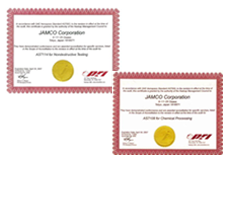 Since April 2006, JAMCO Group has been accredited by Nadcap, an international accreditation program for special processes in the aerospace industry, for five processes: Nondestructive testing (NDT), Welding (WLD), Heat treating (HT), Composites (Composites), and Laser machining (NM).
JAMCO has obtained JIS Q 9100 certification for its aircraft components manufacturing operations. JIS Q 9100 is a quality management system required by manufacturers in the aerospace and defense industries in Japan, and is equivalent to the AS 9100 standard used in North America and the EN 9100 standard in Europe.
Product spotlight
JAMCO's aircraft components manufacturing business are recognized with a Premium Performance Award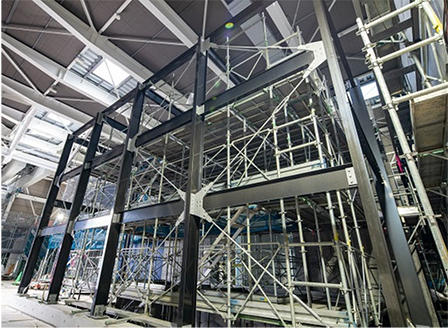 JAMCO's Aircraft Components Manufacturing Division received a Premium Performance Award for its aircraft components manufacturing division from Premium AEROTEC GmbH at a supplier conference held on February 17, 2016. JAMCO's Aircraft Components Manufacturing Division was selected from 940 designated suppliers for one of the awards given in three categories. The award recognizes JAMCO's solid reputation for ensuring a stable supply of high-quality products. For instance, Aircraft Components Manufacturing Division has been supplying upper deck floor beams for Airbus A380 aircraft as a sole supplier to Airbus S.A.S. since 2003, and to Premium AEROTEC GmbH since 2009.
JAMCO's refined technologies help boost capabilities in aerospace development
Various types of metals and composite materials are used to manufacture aircraft, and JAMCO processes those substances utilizing advanced techniques to meet the strict standards required in aerospace development. Moreover, the JAMCO Group's manufacturing facilities maintain a stable supply of products, and ensure that they are airworthy by deploying a rigorous quality control system. As a result of these efforts, JAMCO has earned a strong reputation as a manufacturer of aerospace equipment. While paying meticulous attention to quality, JAMCO combines special process techniques—its core competency—and original design concepts to respond to the needs of customers and supply a wide range of aerospace equipment and products, including heat exchangers, civil aircraft engine parts, aerospace development devices and components, chassis for electronic equipment, and products made of high-strength and lightweight composite materials.
Photo Providing : Japan Air Self-Defense Force
Manufacturing bases
A key base for manufacturing CFRP structural members and engine parts in the JAMCO Group's aircraft components manufacturing operations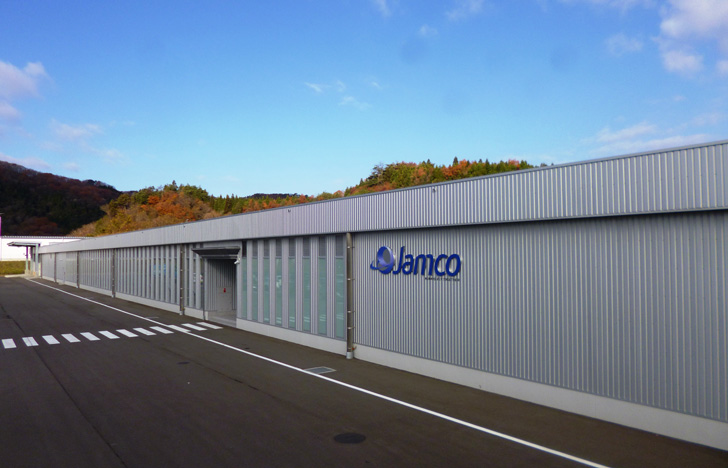 JAMCO AEROMANUFACTURING Co. Ltd.
April 1, 2013 marks the relocation of JAMCO's manufacturing of aircraft engine parts and CFRP structural members to a newly built factory in the city of Natori in Miyagi Prefecture. With the establishment of the new factory, JAMCO also launched a new subsidiary, JAMCO AEROMANUFACTURING Co. Ltd., to handle the production of the transferred products.